Today we come with special day dedicated to celebrating The Friendship Day, Friends known to be – Companion, Affectionate. Friends knotted with incredible magical web of unbounded love and care.
Friend is also known by other names like – Friend, Relative, Friend, Companion, Affectionate, Friendly, Companion.
Table of Contents
Friendship Day
As you know that Friendship Day is celebrated in many parts of small and big provinces of the whole world, do you know that Friendship Day was started from America in 1935.
Perhaps you would like to know that there is a trend to celebrate Friendship Day in India as well, which is celebrated every year on the first Sunday of the month of August.
No matter who is big or small, everyone definitely has some friend, friend's of friend, companion. Without a friend, our life seems incomplete, so with time we give as much importance to a friend as we give to family in life go on with it can celebrate the Friendship Day.
After family, there are friends, whom we get to mix with, without friends the smile goes away from our life. After family there are friends – friends are the only ones who share in our happiness and sorrow "After family, there is life only with friends." Friendship Day celebration the strong bonds and dedication between friends despite several differences of caste, colour, race, and culture. Even, Mahabharata describes friendship as the most pious bond of human beings that is based on faith, trust, and companionship.
So friends, today we have brought some shayari for you on Friendship Day, Happy Friendship Day Shayari from happyshayari.com, a store of happy moments, which you will definitely like, which you can also send to your dear friends, friend's of friend, and companions. This is our prayer to the Lord, be happy, keep sending bundles of happiness to your loved ones. Keep reading to keep your loved ones HAPPY on happy shayari
Friendship day is celebrated on different dates in different countries across the world. The famous cartoon character "Winnie – the Pooh" was announced as the World's Ambassador of Friendship in 1997, by Nane Annan, wife of UN Secretary-General Kofi Annan.
All About The Friendship Day
Friendship Day is a special day dedicated to celebrating the amazing bond of friendship between individuals. It is celebrated on the first Sunday of August every year, and it is a day to cherish and appreciate the friends who make our lives better.
On this day, people exchange friendship bands, cards, gifts, and flowers to express their love and appreciation friendship quotes towards their friends. It is also a time for people to come together and celebrate with parties, outings, and other fun activities.
One of the best things about Friendship Day is that it reminds us of the Importance of having good Friends in our Lives. Friends are the ones who stand by us through thick and thin, who support us when we need it most, and who make life more enjoyable.
Friendship Day is not just about celebrating existing friendships but also about making new ones. It provides an opportunity for people to connect with others who share similar interests or values, and form new bonds that can last a lifetime.
Additionally, Friendship Day promotes peace and understanding between different cultures and communities. It brings people together in a spirit of love and kindness, regardless of their race, religion or nationality.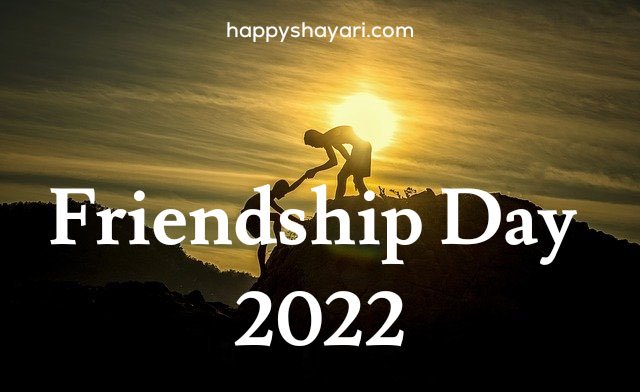 Importance of having Good Friends in our Lives
Having good friends in our lives is incredibly important for several reasons:
Emotional support: Good friends provide emotional support, which is essential to our mental health and well-being. They offer a listening ear, a shoulder to cry on, and a safe space to share our feelings without judgment.
Positive influence: Good friends can be a positive influence on our lives. They can encourage us to take risks, pursue our dreams, and make positive changes in our lives.
Social connection: Good friends provide us with a sense of social connection and belonging. They help us feel less lonely and isolated, and they provide us with opportunities for social interaction and fun.
Shared experiences: Good friends help us create shared experiences that we will remember for the rest of our lives. Whether it's traveling together, trying new things, or simply hanging out and having fun, these shared experiences help strengthen our friendships.
Accountability: Good friends hold us accountable for our actions and decisions. They remind us of our goals and help keep us on track when we are tempted to stray.
Best Ideas to Celebrate the Friendship Day
Plan a get-together with friends: Organize a party, BBQ, or Picnic, Pool Party with your Friends to celebrate Friendship Day. It's a great way to spend time together and create new memories.
Exchange gifts: Exchange friendship bands, cards, or small gifts with your friends as a token of your love and appreciation for them.
Take a trip together: Plan a weekend getaway or road trip with your friends to explore new places and create unforgettable experiences.
Have a movie night: Host a movie night at home or at the cinema with your friends and watch some of your favorite films together.
Volunteer together: Participate in community service activities or volunteer at an organization that you all care about. It's a great way to give back while strengthening your friendships.
Try new activities together: Experiment with new hobbies or activities that you've always wanted to try but never had the chance to do so.
Write letters to each other: Write heartfelt letters expressing how much you appreciate and value each other's friendship. It's a thoughtful gesture that will be cherished for years to come.
Remember, the most important thing is to spend quality time with your friends and show them how much you care about them on Friendship Day and every day!
Gift Ideas for Male and Female Friends as well as for Best Friends On Friendship Day
Gift ideas for Male Friends:
Personalized beer mug or whiskey glass
A funny or quirky t-shirt
Bluetooth speaker for music lovers
Sports equipment or gear for their favorite sport
A grooming kit or skincare products for self-care
Gift ideas for Female Friends:
Personalized jewelry like a necklace or bracelet
A cute and trendy handbag or tote bag
A scented candle or diffuser set for relaxation
Makeup or beauty products from their favorite brand
A subscription to a magazine or book club
Gift ideas for Best Friends:
Matching friendship bracelets or necklaces
Personalized photo album filled with memories of your friendship
Customized phone cases with your names and photos on them
A gift card to their favorite restaurant, store, or experience like a spa day.
A heartfelt letter expressing your love and appreciation for them as your best friend.
Conclusion
In conclusion, Friendship Day is an important occasion that celebrates the beauty of friendship. It reminds us to cherish our friends, both old and new, and to cultivate strong bonds that enrich our lives. So let's take this opportunity to reach out to our friends today- write them a letter or call them up- just let them know how much they mean to us!
Overall, having good friends in our lives is essential for our mental health, well-being, and happiness. They provide us with emotional support, positive influence, social connection, shared experiences, and accountability that we need to live fulfilling lives. Remember, the most important thing is not the gift itself but the thought and effort put into it to show your friends how much you value and appreciate their friendship on Friendship Day!
Reading Corner – Amazon
Read Content on other Pages:
Source: Friendship Day | Amazon