In the realm of Hollywood, few names evoke the same level of intrigue and fascination as Johnny Depp. With his chameleon-like ability to transform into diverse characters, Depp has left an indelible mark on the world of cinema. This post delves into the captivating journey of the enigmatic actor, exploring his early life, iconic roles, and his enduring influence on pop culture.
Table of Contents
Legendary Johnny Depp Info.
| Aspect | Details |
| --- | --- |
| Full Name | John Christopher Depp II |
| Date of Birth | June 9, 1963 |
| Place of Birth | Owensboro, Kentucky, United States |
| Nationality | American |
| Occupation | Actor, Producer, Musician |
| Notable Works | "Edward Scissorhands," "Pirates of the Caribbean," "Sweeney Todd" |
| Breakthrough Role | "21 Jump Street" TV Series |
| Musical Endeavors | Guitarist for Hollywood Vampires |
| Philanthropic Work | Support for Children's Hospice & Palliative Care Coalition, among others |
| Personal Challenges | Legal battles and controversies |
| Artistic Evolution | Known for versatile roles and character choices |
| Cultural Impact | Iconic portrayal of characters like Captain Jack Sparrow |
| Legacy | Considered a Hollywood legend and influential actor |
Note: It provides a concise overview of key information about Johnny Depp. For more in-depth details, refer to the content provided in the end of this post.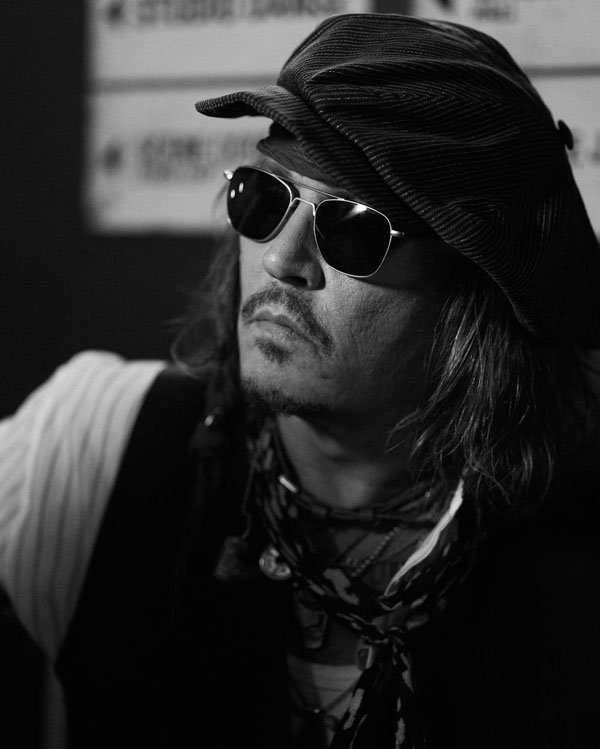 10 Most Famous Johnny Depp Quotes (QUINTESSENTIAL)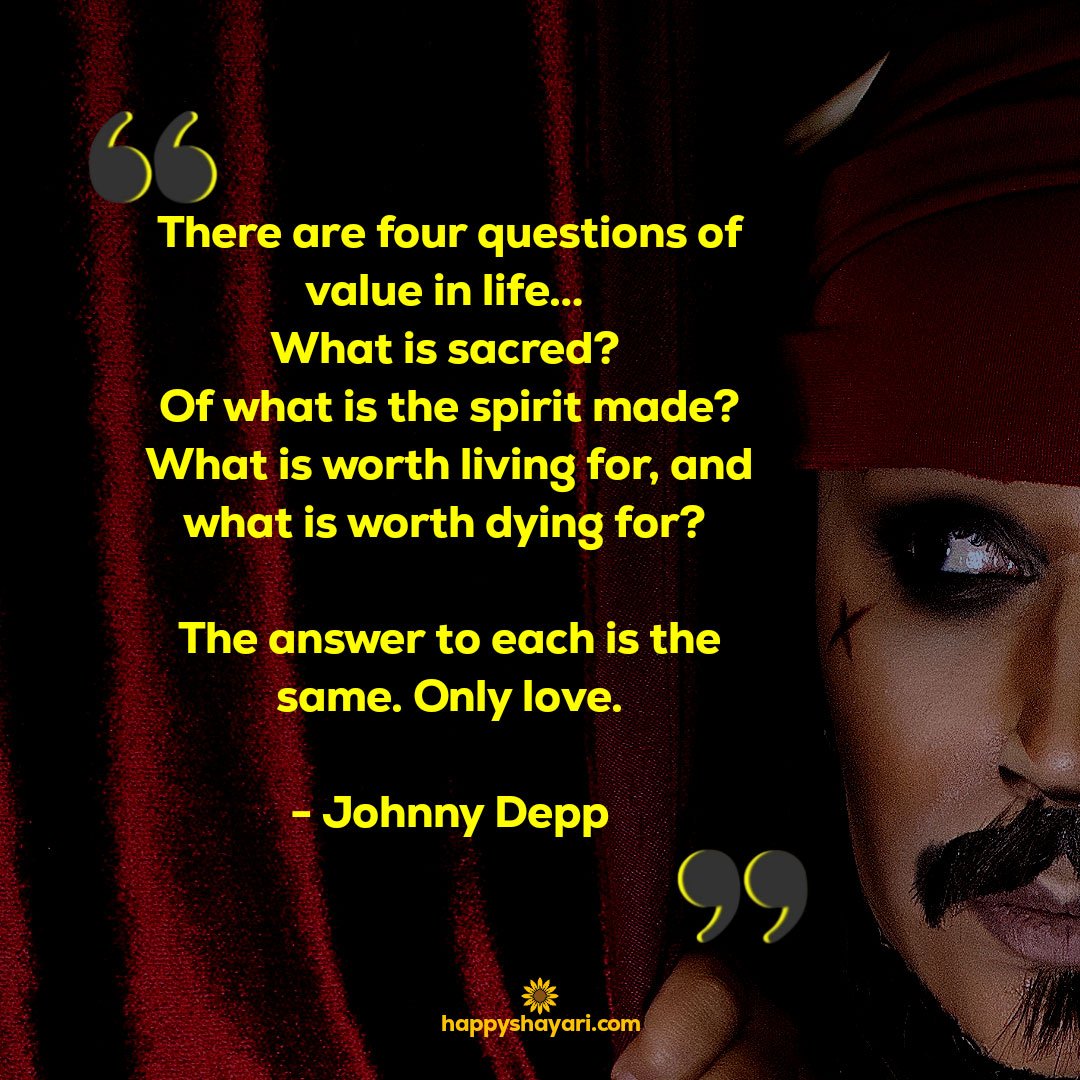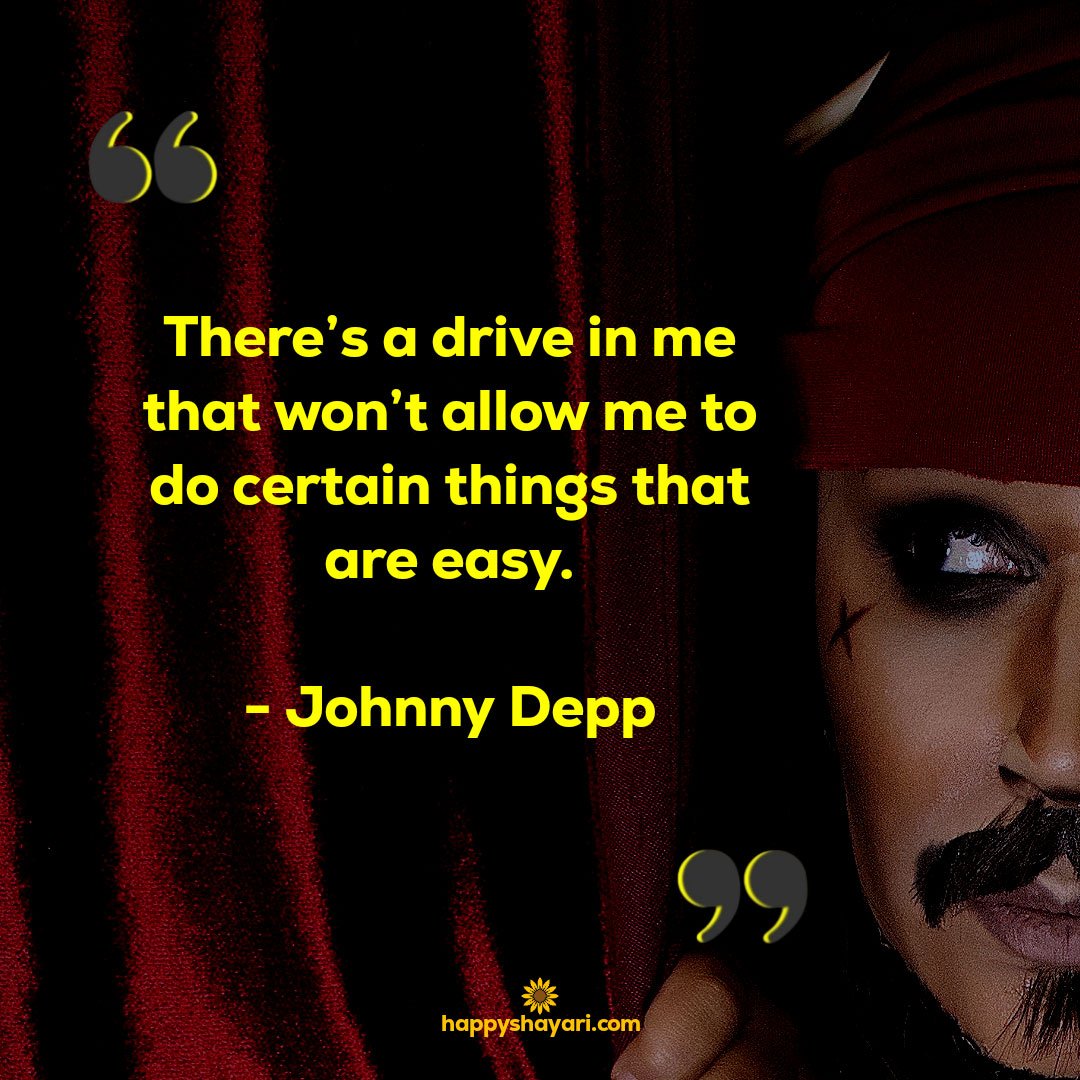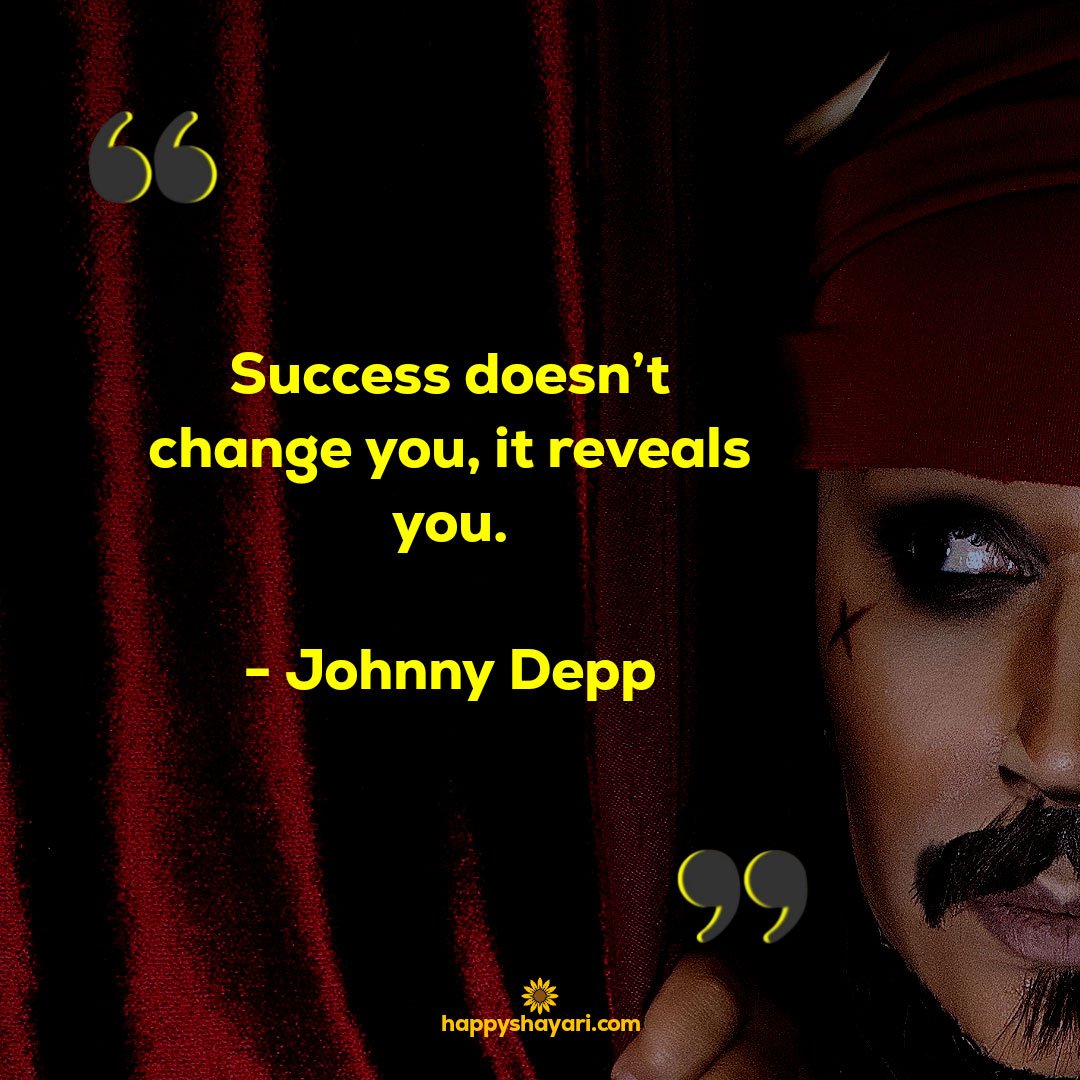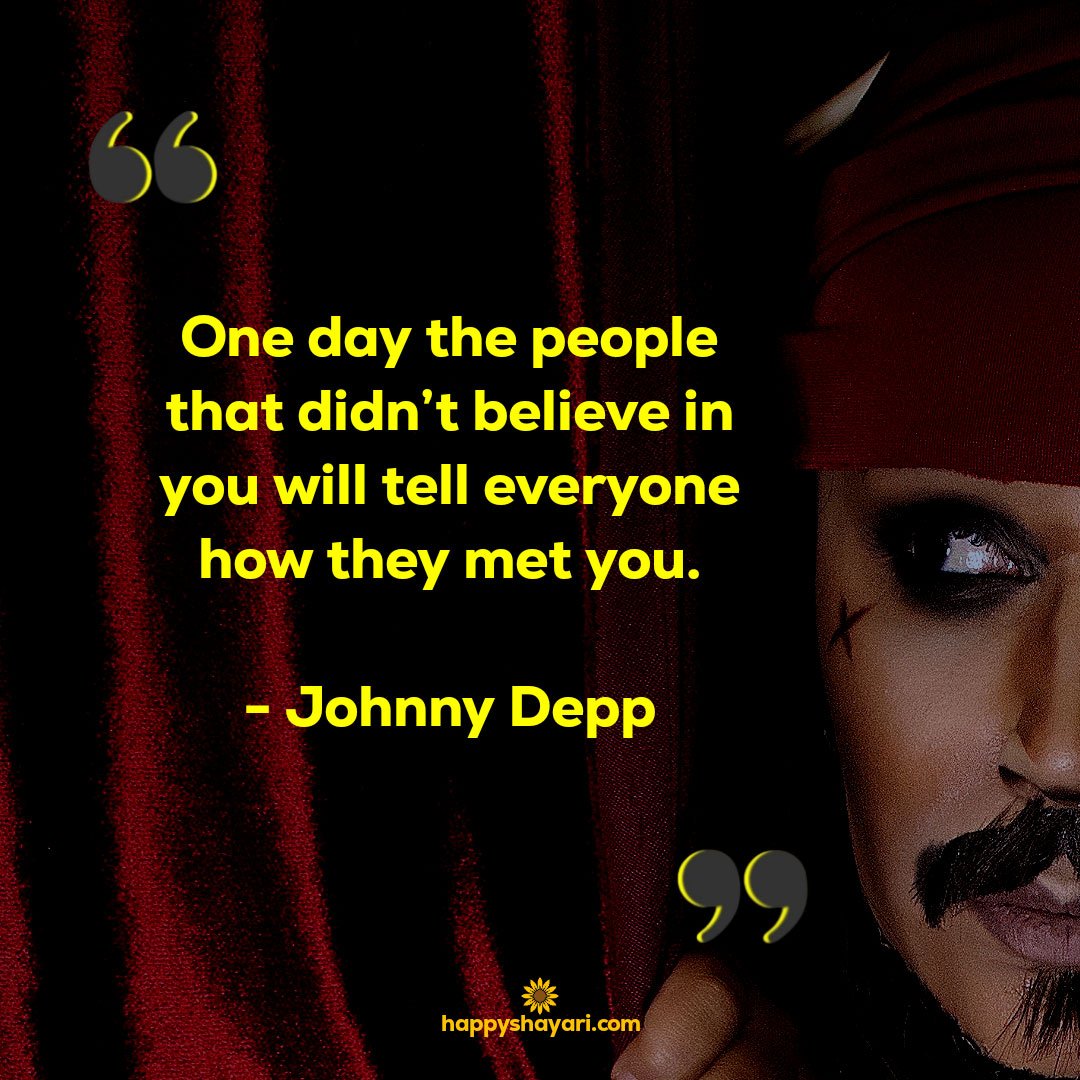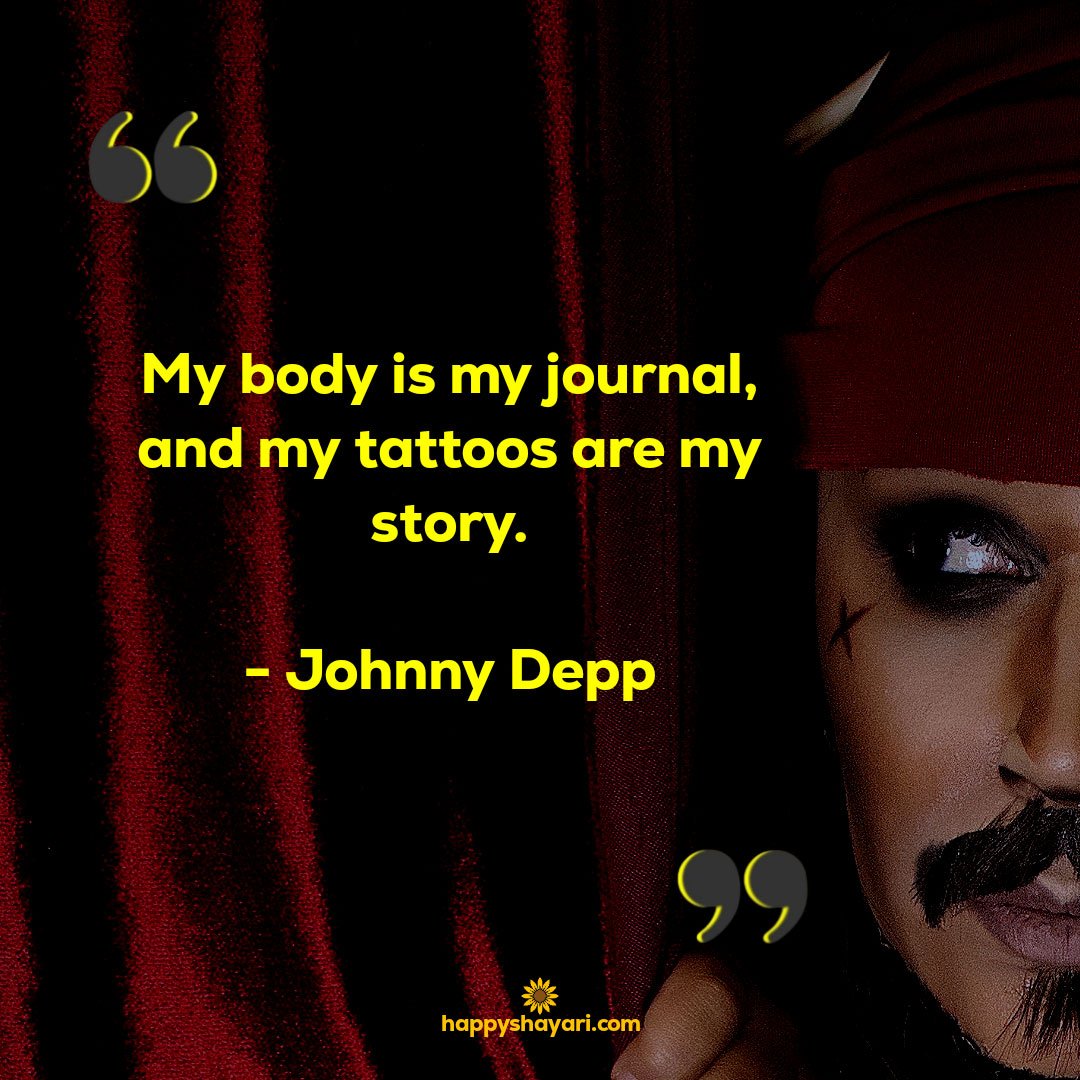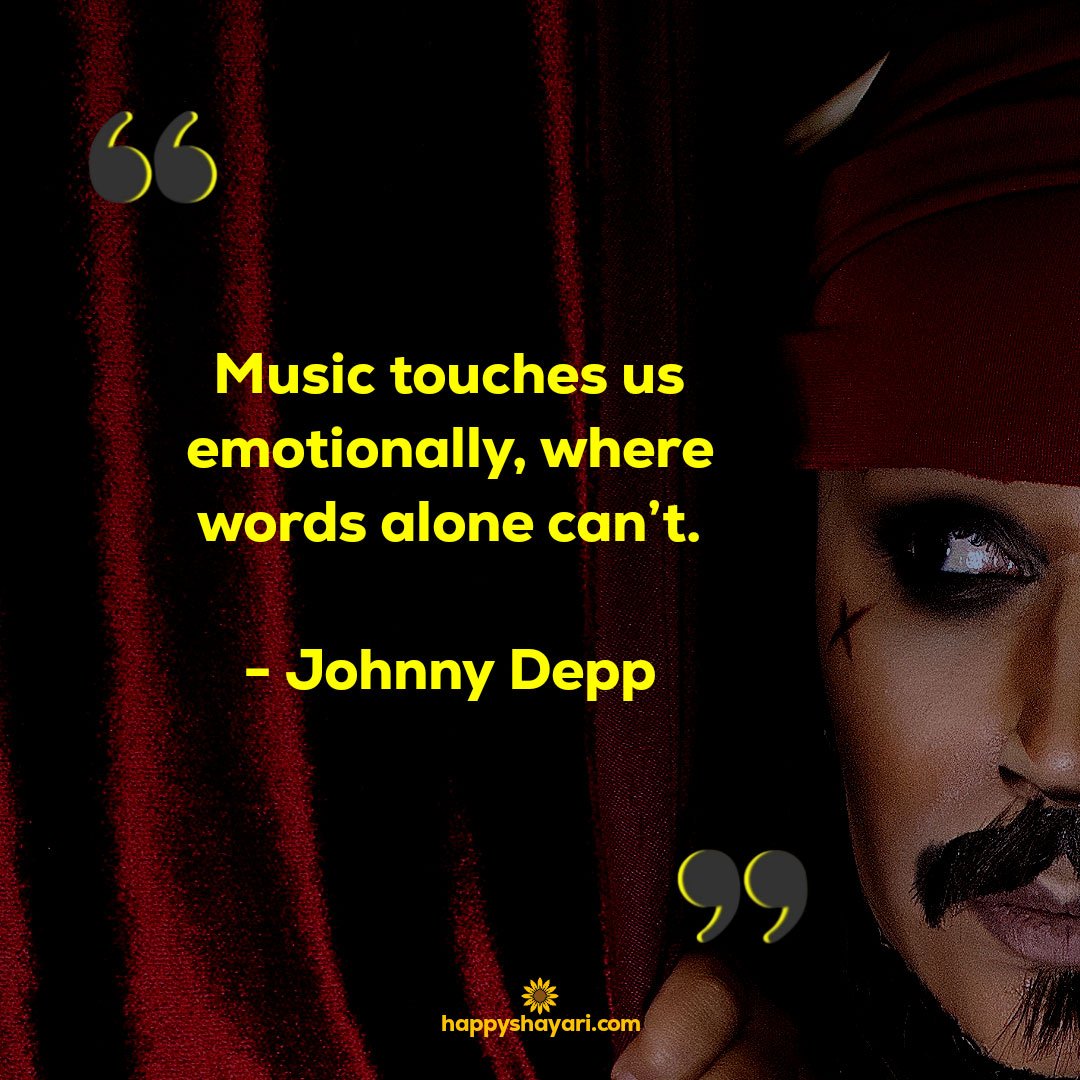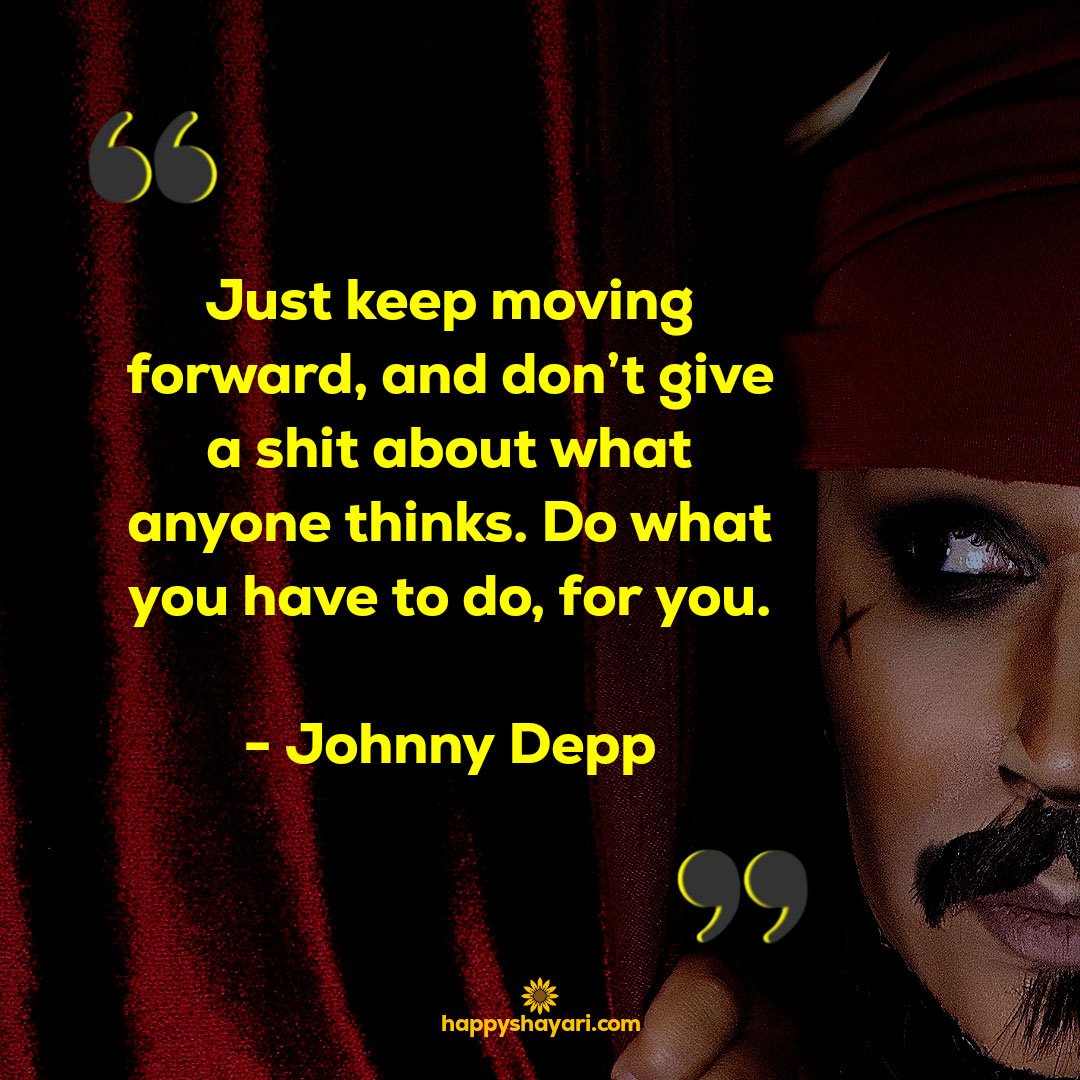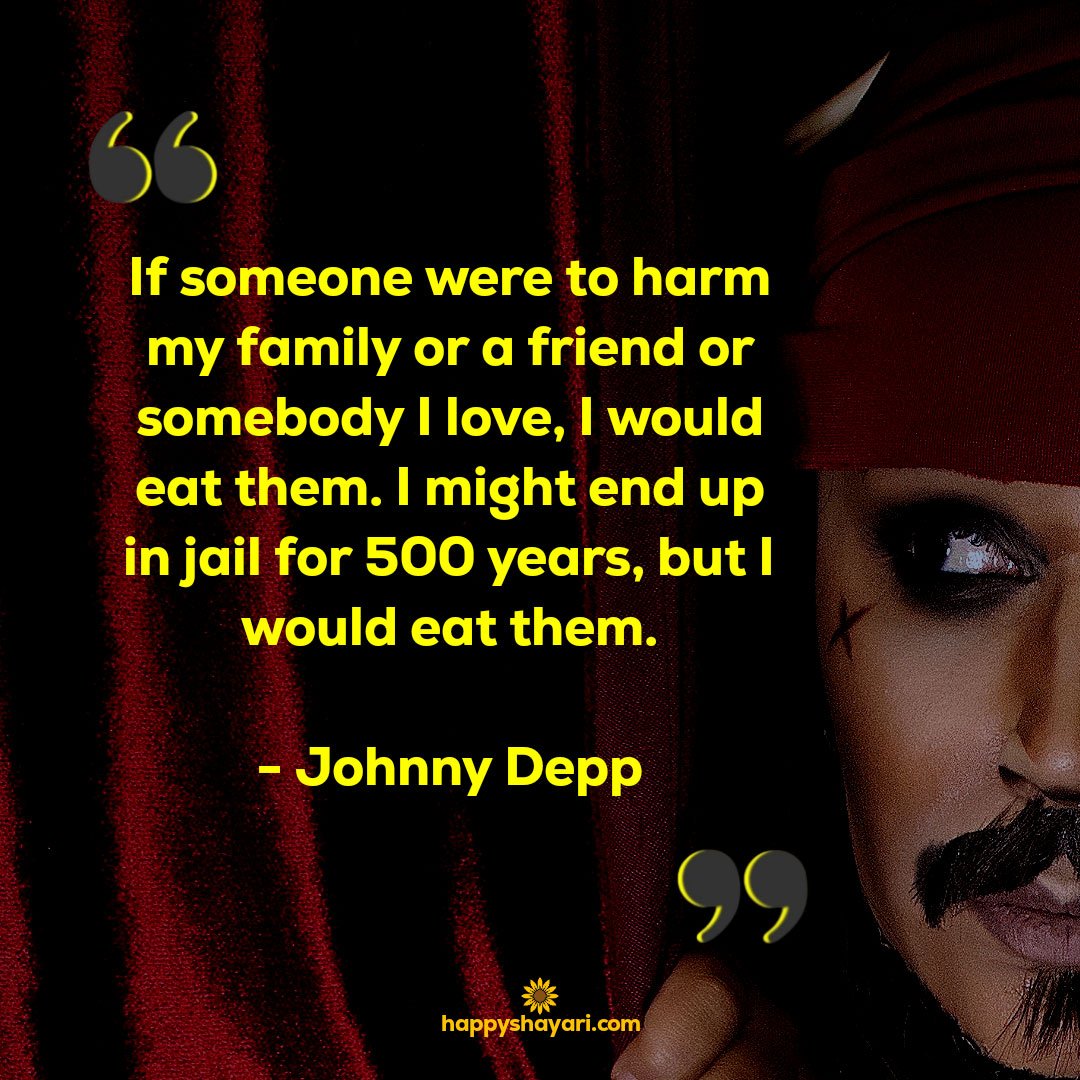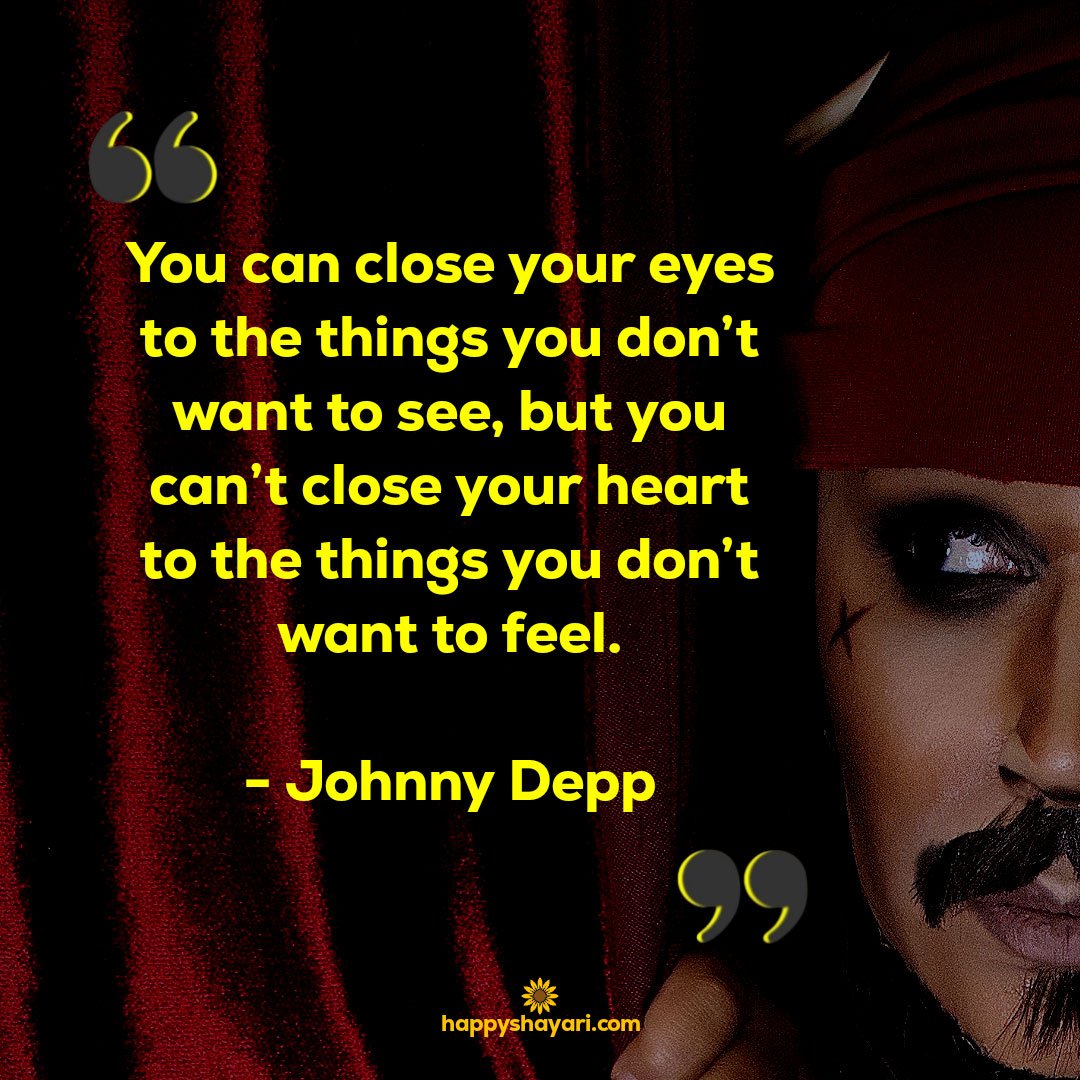 13 Motivational Johnny Depp Quotes About Life (ECHOES OF BRILLIANCE)
People say I make strange choices, but they're not strange for me. My sickness is that I'm fascinated by human behavior, by what's underneath the surface, by the worlds inside people.
People cry not because they're weak, it's because they've been strong for too long.
I like the challenge of trying different things and wondering whether it's going to work or whether I'm going to fall flat on my face.
When I see someone who just follows their dream and succeeds, and just does basically what they want to do and doesn't have to answer to anyone, obviously not harming anyone, that's great. – Johnny Depp
If there's any message to my work, it is ultimately that it's OK to be different, that it's good to be different, that we should question ourselves before we pass judgement on someone who looks different, behaves different, talks different, is a different color. – Johnny Depp
I don't think anybody's necessarily ready for death. You can only hope that when it approaches, you feel like you've said what you wanted to say. Nobody wants to go out in mid-sentence.
There is nothing on earth that could ever make me want to relive certain years of my life when I was young.
I don't pretend to be captain weird. I just do what I do.
I am doing things that are true to me. The only thing I have a problem with is being labelled.
I've never felt particularly ambitious or driven, that's for sure, although I like to create stuff, whether it's a little doodle, a drawing, a small painting or a movie or a piece of music, so I suppose I'm driven by that. Everything I've done has felt very natural, and it's happened because it's happened. – Johnny Depp
We're all damaged in our own way. Nobody's perfect. I think we're all somewhat screwy. Every single one of us.
I'm an old-fashioned guy… I want to be an old man with a beer belly sitting on a porch, looking at a lake or something.
Life's pretty good, and why wouldn't it be? I'm a pirate, after all.
6 Best Johnny Depp Quotes About Love and Family (MEMORIES)
Love is not blind. It simply enables one to see things others fail to see.
Laugh as much as you breathe and love as long as you live.
When kids hit 1 year old, it's like hanging out with a miniature drunk. You have to hold onto them. They bump into things. They laugh and cry. They urinate. They vomit.
She's kind of a walking poem, she's this perfect beauty… but at the same time very deep, very smart.
I'm just an actor, and if I can leave something behind that my kids will be proud of, then that's what I want. I don't want my kids to be embarrassed by anything I've done.
The only creatures that are evolved enough to convey pure love are dogs and infants.
12 A Tapestry of Wisdom: Johnny Depp Quotes to Live By (WISE)
I think the thing to do is enjoy the ride while you're on it.
It's only a bad day, not a bad life.
There comes a time when a good man must wear a mask.
I think everybody's weird. We should all celebrate our individuality and not be embarrassed or ashamed of it.
As a teenager I was so insecure. I was the type of guy that never fitted in because he never dared to choose. I was convinced I had absolutely no talent at all. For nothing. And that thought took away all my ambition too. – Johnny Depp
You gotta be careful: don't say a word to nobody about nothing anytime ever.
I try to stay in a constant state of confusion just because of the expression it leaves on my face.
With any part you play, there is a certain amount of yourself in it. There has to be, otherwise it's just not acting. It's lying.
Not all treasure is silver and gold, mate.
Do what you really want to do. Don't Play their game! Don't do what they want. Find your own way.
A dishonest man you can always trust to be dishonest.
For a long time I tried to manage an honesty and openness about my personal life because I'm human and I'm normal – well, semi-normal.
Early Life and Rise to Stardom:
Johnny Depp's journey began on June 9, 1963, in Owensboro, Kentucky. From his humble beginnings, he pursued a passion for music before venturing into acting. His breakthrough role in the TV series "21 Jump Street" propelled him into the spotlight, showcasing his versatility and charisma.
Iconic Roles that Define a Career:
"Edward Scissorhands" – A Tale of Beauty and Tragedy: Depp's collaboration with director Tim Burton birthed the iconic character Edward Scissorhands. This role marked the beginning of his unique and daring character choices, setting the stage for a career defined by unpredictability.
"Pirates of the Caribbean" Series – The Captain Jack Sparrow Phenomenon: Depp's portrayal of Captain Jack Sparrow in Disney's franchise redefined pirate lore. His whimsical yet complex performance earned him acclaim, demonstrating his knack for turning unconventional characters into beloved cultural icons.
"Sweeney Todd: The Demon Barber of Fleet Street" – A Musical and Dark Delight: Depp's turn as Sweeney Todd showcased his musical prowess and commitment to multidimensional roles. His ability to balance darkness and charm elevated the film's impact.
Beyond the Silver Screen:
Musical Pursuits: Depp's musical talents extended beyond acting, with collaborations including playing guitar for the rock band Hollywood Vampires. His passion for music remains an integral part of his artistic identity.
Philanthropic Endeavors: Depp's commitment to philanthropy is evident through his support for organizations such as the Children's Hospice & Palliative Care Coalition. His dedication to making a positive impact on the world echoes his multifaceted nature.
Challenges and Triumphs:
Legal Battles and Personal Challenges: Depp's career has faced legal and personal challenges, yet his resilience and unwavering fan support have helped him navigate these hurdles.
Artistic Evolution: Depp's willingness to take artistic risks has led to both critical acclaim and controversy. His ability to continually evolve and surprise audiences underscores his iconic status.
A Legacy in the Making: Johnny Depp Movies
A list of 20 Notable Movies featuring Johnny Depp:
Edward Scissorhands (1990)
Pirates of the Caribbean: The Curse of the Black Pearl (2003)
Pirates of the Caribbean: Dead Man's Chest (2006)
Pirates of the Caribbean: At World's End (2007)
Pirates of the Caribbean: On Stranger Tides (2011)
Sweeney Todd: The Demon Barber of Fleet Street (2007)
Finding Neverland (2004)
Charlie and the Chocolate Factory (2005)
Alice in Wonderland (2010)
Donnie Brasco (1997)
Blow (2001)
Public Enemies (2009)
Sleepy Hollow (1999)
Rango (2011) – Voice role
Black Mass (2015)
Chocolate (2000)
The Ninth Gate (1999)
Fear and Loathing in Las Vegas (1998)
Once Upon a Time in Mexico (2003)
Benny & Joon (1993)
Note: This list encompasses a range of genres and showcases Johnny Depp's versatility as an actor. Keep in mind that preferences may vary, and this list is not exhaustive of his filmography.
Content on this Page
Johnny Depp Quotes
Johnny Depp
Motivational Johnny Depp Quotes
Best Johnny Depp Quotes
Johnny Depp Movies
Reading Corner – Amazon
Conclusion:
A Living Legend: Johnny Depp's journey in the world of entertainment is a tapestry woven with creativity, complexity, and sheer charisma. From his early days as a heartthrob to his status as a multifaceted artist, his impact is undeniable. As we celebrate his accomplishments and eagerly await his future projects, one thing remains clear: Johnny Depp's enigmatic presence will continue to captivate audiences for generations to come.
Read Content on other Pages: